Oh hey blog, bet you didn't think you'd see me again today did you? I used to do that all the time when I first started hanging out with you. Ya know, that whole blog twice in one day ordeal? Apparently I thought I was an overachiever. Or I just hadn't received my crash course in all the blog rules yet. I'll let you decide, but play nice blog because I'm back for a good reason today.
Someone has a brand new one-time linkup coming your way later this week. And that someone would be yours truly (of course) and my girl Mackensie who blogs over at
One To Nothin'
. If you don't know her by now then you need to get to knowing her because not only is she the cutest thing ever in life but she's also the most brilliant. And that's all because she's the mastermind and brains behind this linkup. I'm Pinky, she's the Brain. I did nothing other than say, great idea, here's a date, let's work it out, oh and can you do all the work? And she was all like of course I can Erin and then banged it out of the ball park.
But participating in this linkup might be a little tough for some of you, especially if you're anything like me. Why? Because it's about dating. Gasp! This is something I rarely ever go into detail about on this here blog. I'd honestly rather eat my laptop than start airing my dirty laundry out on a virtual clothes line for you all. But I'm going to do it. At least I think...
Guess you'll have to come back on Thursday to find out and play along huh? Don't let me down blog friends; I'm counting on you to give me a boatload of entertainment with this one. And now I'm going to let MacBrain take it away to give you all the deets and entice you to do so.


Flirting With Disaster: A Dating Horror Stories Link up
Dating can be a bitch, am I right? Obsessing over how long it takes some dude to text you back, accidentally giving out your number when you're wasted and trying to stalk them on Facebook the next day (when you obviously don't know his last name) and just "playing the game" in general. In the words of Taylor Swift, "This is exhausting." So we are giving you the perfect excuse to blog about it.

Who:
This link up is for all the single ladies out there (and the shacked up ones who remember what it's like being a single lady), who have several contacts saved with bar names after them and always have entertaining creeper stories to update their friends with.
What to link up:
Anything dating-related! Tell us about that date from hell, the awful pickup line that guy used on you at the bars last night or how you met the man of your dreams while puking in the bushes. Really anything goes.
When:
The linkup goes live this Thursday, so be sure to get your blog posts ready and cross your fingers that the creepers don't stalk your blog.


------------------------------
Oh and speaking of gorgeous girls I've met in Blogland, I have another for you to meet today. Chelsea from
The Girl Who Loved to Write
is answering some random questions I asked her. I stumbled on her blog one day and fell absolutely in love with her design (shout out to
Aubrey
for that) and then immediately fell in love with her too. I'm sure you'll have to same reaction after meeting her as well.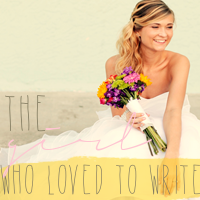 1. If you had to be stuck in one season for the rest of your life, which one would it be?
You could have asked me what the square root of a seven-digit number was and that would have been easier than answering this question. (I basically failed every math class I ever took, so that's really saying something)
I'm just gonna say not spring. Right now I want to say summer because it happens to be summer, and everything is better and more laid back in the summer, even when you're grown up and have a job. But fall is my favorite, and I love Christmas. What's a girl to do?
2. What was your favorite cartoon growing up?
Rugrats.
Me and my little brother could watch that for daysssss.
Although I must say, if you watched Rugrats as a child and haven't since you've grown up, you need to get on that.
You'd be amazed by how creepy the show actually is.
3. If you could hop on a plane tomorrow and go anywhere in the world where would it be?
Easy. I'd take myself right back to Jamaica where I went on my honeymoon in December. We went to Sandals. Let me just explain sandals to you in a nutshell: you have a butler available to do anything you need 24/7. You have endless food available 24/7. You lay on the beach and your butler brings you all the drinks your little sunburnt heart desires. Fo' free. I mean, not technically free, since we had already paid for it, but it was all inclusive which meant you didn't have to spend any money while you were there, which basically means free.