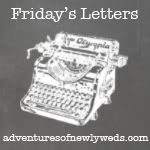 Dear Thanksgiving: I couldn't be any more excited for you to get here. Family, friends, and food oh my.
Dear Taylor Swift: Where was your butt on X-Factor last night? I couldn't tell which side was your front.
Dear Kailyn from Teen Mom 2: Let's put some makeup on and brush your hair while on national television shall we?
Dear 2nd Ave traffic: How about we quiet down a bit from 11pm-8am. A girl's gotta get her beauty rest.
Dear Craigslist movers: You are straight scum trying to scam an innocent little girl who's crying in front of you. Despicable isn't a strong enough word for you.
Dear new apartment: You truly make me my heart so happy to come home to you every night after work.
Dear Saturday: Can you please hurry up and come a little sooner so I can play with friends all weekend long.
Dear Sunday: What on earth shall I do with you since the Giants have a bye...breathe and not have a heart attack? Yup.
Dear Christmas decorations: You have no idea how hard it has been to not pull you out of my closet. One more week and you're all mine.
Dear Facebook: Show me another engagement notification for kids younger than me and I'll knife you.
Dear Santa: I wish I still believed in you. Life was just so easy back when my biggest concern was finding reindeer tracks in the front lawn.
Dear bag full of Mr. Goodbars: I wholeheartedly wish I didn't believe in you but you're just too damn good.
Dear Bloggers: I love you and all have decided to give out free medium ad spots to the first ten of you who email me. Twothirdshazel (at gmail dot com).

***This is now closed but if you'd still like ad space I can hook you up with a 50% discount so email me for the promo code***